| | |
| --- | --- |
| | Fleas! |




The Veterinarian
123 Main Street
Anytown, NY 20317
USA
(212) 555-4321
(212) 555-1234 fax

Send Us

E-mail

© Copyright 2011
The Veterinarian, Inc.
powered by Website2Go.com
All Rights Reserved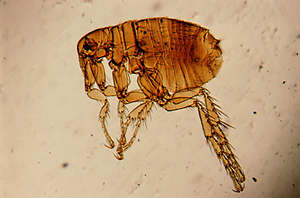 Every year, it's like a broken record. Fleas bite, and the scratching and chewing starts again. Adult fleas jump on your cat or dog. They bite them to feed on the blood. Then the fleas produce eggs. Eggs drop from your pet to the ground or carpet. The eggs develop over time into adult fleas. And the cycle starts all over again!

Adult fleas on your pet can actually cause serious medical problems -- like flea allergy dermatitis or tapeworms, and in some extreme cases, anemia. Flea-related diseases account for more than 50 percent of dermatologic cases presented to veterinarians and more then 35 percent of the total small animal veterinary effort.

Flea control should begin as flea prevention. Depending on which part of the country you live in, your flea season can last for four months or can be a year-long problem. Your veterinarian is a flea expert and can advise you on the latest new products that kill adult fleas, eggs, and larvae, and that take care of fleas in your environment. They will base their recommendation on your regional weather conditions (high humidity and heat means more fleas on the way), your pet's health and level of flea infestation.