| | |
| --- | --- |
| | Picking a Vet |




The Veterinarian
123 Main Street
Anytown, NY 20317
USA
(212) 555-4321
(212) 555-1234 fax

Send Us

E-mail

© Copyright 2011
The Veterinarian, Inc.
powered by Website2Go.com
All Rights Reserved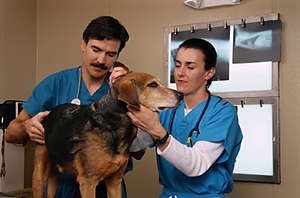 Selecting a veterinarian for your pet is a personal choice, just like choosing a family physician or dentist. The criteria you use is similar. What is important to you? Location? Convenient hours of service? Friendliness? Commitment of doctors and staff? Fees? These should all be taken into consideration.

In picking a vet, your goals should be to find the doctor that best meets your needs and to establish a long-term relationship. The veterinarian will maintain a history of your pet, including health records that detail immunizations, reactions to medications, behavior traits, and more. It's important to see your veterinarian for all your pet's health care needs. They know the best preventive and critical care to provide with your pet's individual health care needs in mind.

So Ask a Friend
Animal-owning friends are a good source of information. Ask them what they like about their veterinarian.

Find a Breed Club
If you have a specific breed of dog, cat or bird, breed clubs can be a good source of information.

Check Local Directories
The business pages of a phone book or yellow pages normally provide information on local vets.

What To Look For

OFFICE HOURS

What are regular office hours?
Are they compatible with your schedule?
Who covers the practice when the doctor is unavailable?
PROFESSIONAL STAFF

How are routine telephone calls handled?
Can you request an appointment with a specific veterinarian?
Do you feel comfortable talking with the doctor?
FEES AND PAYMENT

What methods of payment are accepted?
Is immediate payment expected on the day of visit or are credit cards accepted?
SERVICES

What is the range of services that the veterinary hospital provides?
EMERGENCY CARE

How are emergency calls handled during regular office hours and after regular office hours?
FACILITY

Is the practice clean and orderly?
Are there any unpleasant odors?
PROFESSIONAL AFFILIATIONS

Are the doctors members of any professional veterinary associations?
POLICIES

Understand the hospital's policies and procedures.

Visit several practices before you make a decision. All vets are special. And all pets are special. Take the time to choose the right veterinarian for your special pet.